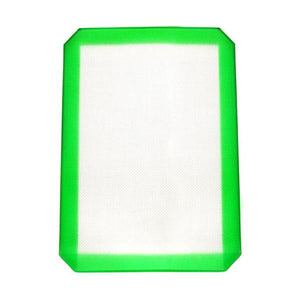 About the Oil Slick Pad
Recover 100% every time.
Engineered specifically for concentrates, the Slick™ Pad allows you to handle the stickiest resin with ZERO waste or mess.  Production and collection are a breeze with the Slick Pad.  Never scrape again, nothing sticks to Oil Slick!
Completely non-stick, the Slick Pad is the perfect surface for handling your precious extracts and protecting your glass tools
It's the perfect surface for drying water extracts
Sticky tools stay clean of debris, while slippery glass stays put
An environmentally friendly alternative to parchment paper
The reinforced surface is non-stick, heat resistant, and completely reusable
Slick Pad is microwave and hot-plate safe. The unique material spreads heat evenly when used for purging and handles temperatures up to 500°F
The highest grade of silicone available, our unique material is manufactured from medical grade (USP6) silicone.  Unlike Food Grade silicone, USP6 material is completely free of manufacturing byproducts and is comprised only of pure silicone.
Don't settle for cheap imitations, Only "Oil Slick Platinum Cured" silicone has no bad odors, smells or flavors that can affect the purity of your extract.
WHAT'S IN THE BOX:
1x Oil Slick Pad
---
RELATED PRODUCTS